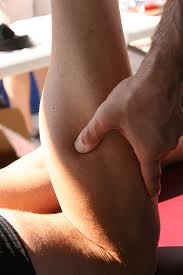 When it comes to the treatment of soft tissue injuries, Active Release Technique (ART) has become the gold standard of care. This patented system involves the use of more than 500 pressurized movements to naturally heal injuries. Temecula chiropractor Nathen Horst has been trained and certified in the specific ART protocols that can be performed to repair strained muscles and other soft tissue injuries.
Customized Treatment Approach
During your initial examination with Dr. Horst, he will check the muscles, ligaments, fascia, tendons, and nerves, using his hands to evaluate their movement and tightness. If Dr. Horst identifies the presence of scar tissue or adhesions, this is an indication of an underlying injury. Scar tissue and adhesions develop as a result of small neuromuscular tears and sprains. Dr. Horst performs ART to break up the scar tissue and adhesions that inhibit function and blood flow to the musculature, decreasing the patient's range of motion; reducing strength; and causing pain, numbness, or tingling in the affected area. Tight, overused, and strained muscles can also be treated with ART.
After Dr. Horst has pinpointed the source of your injury, he will tailor your ART treatment to correct your specific problem. He will exert a precise amount of pressure and tension on specific areas of the body, while directing the patient to move or bend the musculature in specific ways. This combination of movement and pressurized manipulations help to break up the scar tissue and adhesions, and relax tight muscles. Once the source of the soft tissue injury is treated, the entire system benefits from improved blood flow and function.
We always recommend regular chiropractic and ART sessions to patients, especially to athletes. Chiropractic care is one of the best ways to prevent future health problems and maintain optimal function of the entire body. Patients that regularly attend chiropractic appointments, eat a healthy diet, and exercise daily will experience an improvement in the way their bodies look and act. After your first appointment with Dr. Horst, he can recommend a treatment plan and the number of treatment sessions that is ideal for your needs.
Sports-related Injuries
Many of the patients that come to Horst Chiropractic for ART treatment are athletes. Athletes often suffer from repetitive use or overuse injuries, which can lead to the formation of scar tissue. Some of the conditions that can be corrected with ART treatment include:
Work-related Injuries
It is also common for patients to seek ART treatment for work-related injuries. Some of the repetitive use injuries that can be treated with ART include:
Shoulder tension
Neck tension
Back pain
Strained muscles
Contact Horst Chiropractic today to schedule an appointment with Dr. Nathen Horst; we will schedule an appointment at your earliest convenience. Whether this is your first time seeing a chiropractor, or you are looking for a provider certified in Active Release Techniques, Dr. Horst can provide you with the treatment you need. We look forward to meeting you.